Reach Truck On Hire|Rent
in Surat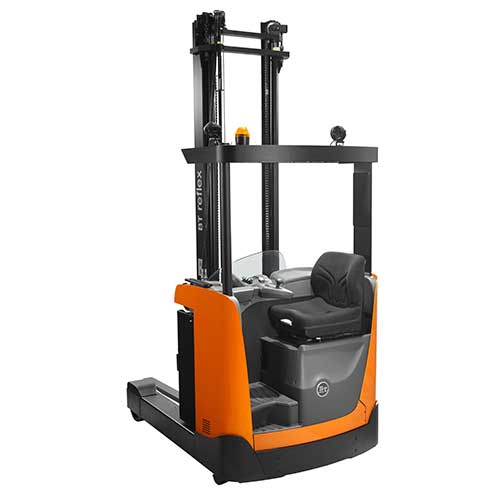 Asian Engineering Group has been providing the best rental services of reach truck renting/ Hiring in Surat for a long time. We have over more than 45 years of experience in the field of reach truck renting, and is committed to providing high quality products and excellent service to our customers. We have a team of experts who are knowledgeable about all types of forklifts and their specifications. Our staffs are the best at customer service and have the latest fleet of reach truck on rent. All these products are offered under the one roof so that people can buy whatever they need at the same place.
Our company "Asian Engineering Group" is among the pioneers when it comes to MHE on hire or on hiring, rental, and also services like repairing/repair, sales in Surat.
Reach Truck is used to move pallets in and out of racking that can be one pallet or two pallets deep. Reach Trucks are very suitable for a variety of industries such as warehouses, distribution centers, and manufacturing plants. No matter what the AEHL - Applications, Environment, Height, Load we have Reach Truck models with various lifting heights and capacities, making it easy to transport and store materials quickly and efficiently. We also have reach forks / pantograph giving you maximum performance shift after shift.
A Reach Truck is designed to carry and stack containers so that the load can be distributed evenly throughout the truck bed. This helps reduce the amount of time it takes to load or unload a truck by 50%. It also helps reduce the amount of time it takes for a worker to walk back and forth from the trailer to the loading dock because of its ergonomic design. A Reach Truck's main function is to improve efficiency in areas such as warehousing, distribution, and logistics. It is used to reach high places such as buildings, bridges, and other structures.
Why us?
We gives reach truck on hire, hiring, rent, renting, for sale and rental service in Surat.
We provide certified quality reach truck on hire that will suit your needs, and you can rent or hire them from us at affordable prices.
Our group provides a variety of options to suit the needs of different industries and applications.
 We mainly focus on the production of precision metal sheets, composite metal sheets, and metal sheets with a protective coating for obtaining superior range of reach trucks.
Industrial Applications:
Construction
Mining
Manufacturing
Oil & Gas
Medical
Forestry
Food and Beverage
Properties:
We gives reach truck on hire, hiring, rent, renting, for sale and rental service in Surat. Reach Truck is also known as an articulating truck, crane truck, or boom truck. It is usually mounted on the front of a tractor unit with the arm attached to the rear. The arm can be raised and lowered to make it easier to reach containers stacked high on other vehicles or in storage yards. It has a variety of features that make it an ideal solution for industries. It provides a clean and safe way to move products from the warehouse to retail stores. It also enables retailers to have more control over their inventory and stock levels.
Advantages of using Reach Truck:
Reach Trucks are used in many industries including construction, mining, and forestry. They have many advantages over traditional trucks.
The most obvious being that they can be driven from the cab without the need for a ladder or other means of climbing. This makes them safer and more accessible than traditional trucks.
They can be used for a variety of tasks including material handling, loading and unloading, and storage.
It helps us to increase safety by reducing the risk of accidents caused by lifting or carrying heavy objects or materials.