LI-ION Forklift on Hire
in Sanand
Get the BYD LI-ION Forklift on Hire/Hiring, Rent/Rental, For Sale in Sanand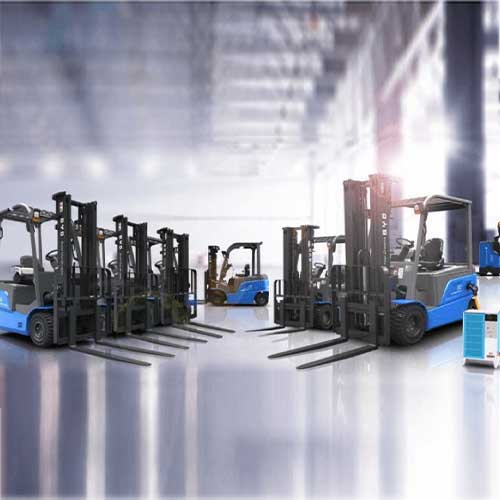 LI-ION Forklift on Hire in Sanand, LI-ION Forklift rent in Sanand, LI-ION Forklift rental in Sanand, LI-ION Forklift for sale in Sanand
Our company "Asian Engineering Group" is the excellent sales, service, repairing and rent/rental service provider of superior quality LI-ION Forklift in Sanand.
We are LI-ION Forklift dealers and rental providers in Sanand provide products that can be charged quickly even in the cold temperatures and are available in a wide range of varieties which comprising various dimensions and sizes to be chosen by our clients as per their specific requirements.
Description
LI-ION Forklift known as lithium-ion Forklift is an advanced energy solution or battery used in forklifts. This next-level technology used lithium ions as the major source or component of its working.
They provide a high level of power every time no matter how much the amount of charge is remaining and a low number of charges do not affect its speed and capacity of lifting.
Our company "Asian Engineering Group" is among the pioneers when it comes to Li-Ion MHE suppliers, traders and dealers in Sanand.
We are also Dealers for BYD India
BYD offering a wide range of Material Handling Products with Modern Technology Equipment's to Indian Industry. BYD is a First company Introducing Lithium – Ion battery technology to Global Material Handling Industry. That's why BYD is "FUTURE OF ELECTRIC LITHIUM MHE"
Counterbalance Electric Forklifts – 1.6 Ton to 5.0 Ton
Reach Trucks – 1.5 Ton and 1.6 Ton
Electric Stackers – 1.4 Ton
BOPT – 2.0 Ton
Tow Trucks – 3.0 Ton to 25.0 Ton
Hand Pallet Trucks
Advantages of Lithium – Ion Battery :
One Battery X 3 Shifts X Forever
No need to replace battery for 2 ~ 3 shifts
Battery warranty – 5 Years
Fast Charging – within 2.5 Hrs. (Depends on Battery and Charger capacity)
No Battery Maintenance
Energy Saving
Long Lift Cycle
Zero Pollution, Zero Emission
"High (Performance + Quality + Safety + Efficiency)"
Please find below comparison on Lead Acid vs. Lithium Iron battery,
| Sr. No. | Items | Lead Acid | Lithium Iron |
| --- | --- | --- | --- |
| 1 | Maintenance | Inhouse / Outsourced maintenance personnel | No Maintenance |
| 2 | Battery | 2 or more batteries per truck | Single (Inbuilt Battery) |
| 3 | Charge Duration | 7 - 9 Hrs | 1.5 hrs to 2.5 hrs (Fast Charging) |
| 4 | Charging | No opportunity Charging | Opportunity charging |
| 5 | Memory Effect | Lower fleet availability due to work interruptions for charging | 100% fleet availability due to opportunity charging |
| 6 | Service Life | Periodic Battery replacement (after every 1,000 cycles) | No need to replace Battery (more than 4,000 cycles) |
| 7 | Space | Built up an expensive Battery Room | No need to build a Battery Room |
| 8 | Energy Saving | Power Loss | Energy Saving by 15% to 40% |